Suzuki Sreamin' Pre Designed Factory Backing Graphics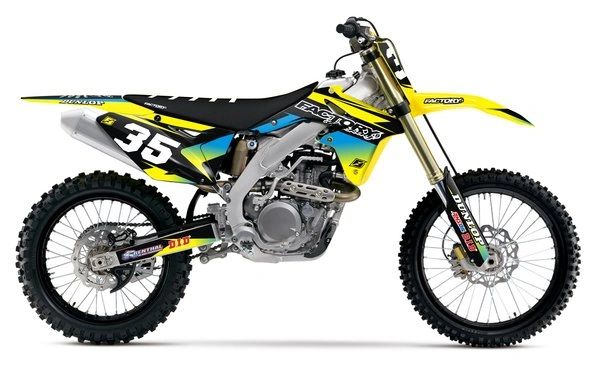 Suzuki Sreamin' Pre Designed Factory Backing Graphics
PRE DESIGNED GRAPHICS KIT, LOGOS COME AS SHOWN. SAVE MONEY AND PURCHASE THIS WAY IF YOU WANT TO GOT THE ECONOMICAL ROUTE.

FULL GRAPHICS KIT PRE DESIGNED WITH THE LOGOS AS SHOWN HERE, YOUR NUMBER AND COLORS PRINTED ON PLATES. MOST MODELS INCLUDE SHROUDS, FRONT TIP, REAR FENDER, SIDES/FRONT PLATE, SWING ARM, AND FORK DECALS

2-3 DAY TURNAROUND

FREE WITH ORDER : 2 MINI PLATES (LIKE YOUR FRONT PLATE BUT SMALLER) AND 1 SET OF FACTORY BACKING FRONT FENDER ARCH DECALS Custom Pre Printed MX Backgrounds. Look like the Factory Riders with Factory Backing's custom backgrounds. Your numbers are printed on the material for a straight clean look. Choose from many option to set yourself aside from the other companies. We give you the most options available at the best prices. Backgrounds are 21 mil thick and subsurface printed. Backgrounds are sold in a set, 2 sides and front number plate. Plastics are not included. There are no returns because these are custom made.

We use the best applicable vinyl that has FLO technology for superior fit!